Backstage Pass – Volunteer Opportunities in Perth
Wednesday January 18, 2012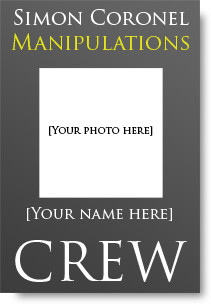 With the Fringe World Festival in Perth looming, I'm on the hunt for production assistant volunteers. This is essentially an opportunity for any younger and/or amateur magician looking to get some experience behind the scenes with a professional production.
Back when I was first learning this stuff, I would have jumped at the chance to see behind the scenes at a proper live show. Now that I'm actually doing them myself, let's put the same opportunity out there for someone who wants it. I'm looking for a couple of people who are:
Over 18 years old
Available in Perth from 6pm - 8:30pm each night from Sunday Feb 12th to Saturday Feb 18th for the shows, and on Sunday Feb 12th from 1pm to 5pm for tech rehearsal
Have some kind of background in magic and illusion, and are interested in learning more about the business and craft involved
The role will involve:
Assisting with the show onstage and/or backstage, including setup, packup, and A/V logistics
Assisting with promoting the show outside of those times
In return for their time, volunteers will be getting:
The chance to work with a mid-level (let's be honest here, this isn't a high school show, but it also ain't Copperfield) professional illusion production
Whatever experience or advice I can provide, within reason, during those times with regard to their own magic skills and/or careers
Good times, wacky hijinks, and guaranteed interesting stories to tell
If you're interested, or know someone who might be, please contact me via the email address at my main website. Actually tracking down said email address is probably a reasonable enough challenge to count as an application process.
See you in Perth!
Next post: Always Bring More Gaffer Tape »