Video Augmented The Radio Star
Tuesday January 10, 2012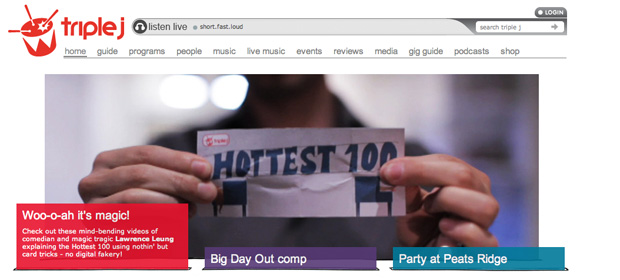 Triple-j is one of the more popular national music radio stations in Australia. Every year their Hottest 100 countdown is a significant event on the music calendar. This year, for reasons I'm not aware of (but certainly not complaining about) they decided to go with a magic-based theme for their promotions.
Lawrence Leung is a good friend of Triple-J, and a guy who has done some magic stuff in the past. They asked Lawrence if he'd be interested in putting some magic themed promotional videos together for the Hottest 100. He then spoke to me about it at a Festivus party (yes, really) back in December.
Festivus is the go-to place for industry insiders to discuss magic video projects. Pro tip.
Afterwards, to cut a long story short, he and I holed up at Dave Lee studios for two days last week and cranked out four promotional videos. Lawrence directed, I designed and hand doubled, and we both planned and brainstormed, again with the help of the inimitable Dave Lee.
The other thing you may not know about Lawrence is that as well as being a fine purveyor of choice stories and jokes, he has several thousand dollars worth of video equipment and knows how to use it. Between that, a heap of gear from my illusion arsenal, Lawrence's editing skills (just for narrative effect, not for any camera tricks), and about 30 years of combined performing/media experience, the final videos came out pretty nicely. They're now sitting up on Triple J's website, helping promote the joys of democratically ranking moderately alternative music.
Or you can just check them out here:
Next post: Backstage Pass – Volunteer Opportunities in Perth »
« Previous post: It's Fringe Time Again, Now Perth-Flavoured