It's Fringe Time Again, Now Perth-Flavoured
Tuesday January 3, 2012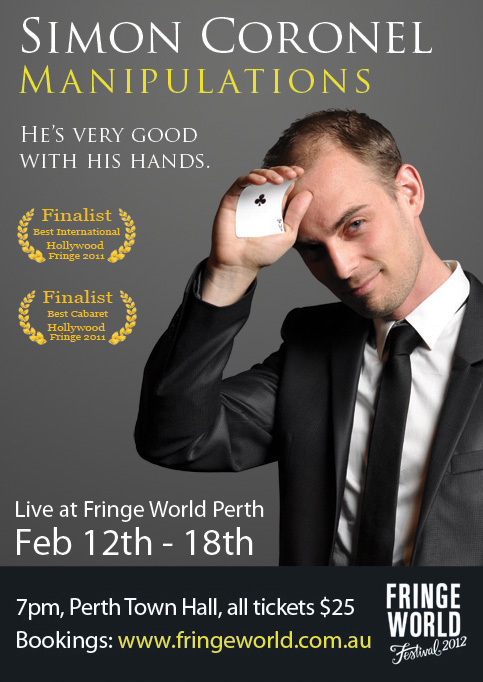 After many months of preparation and please-don't-talk-to-the-media-until-the-official-launch publicity embargoes, I can now announce that my show Manipulations will be featuring at the 2012 Fringe World festival in Perth this February!
The poster is over there on the right, updated with the Hollywood Fringe nominations from back in June. We barely made the marketing deadline with the poster, which had to be submitted with the Fringe recently as part of their poster distribution deal.
One of the things that Fringe Festival newbies are often surprised by (as was I, back the first time I tried something like this) is how early the applications need to be in. The organisation of even a small festival is such a mammoth task that the organisers need the show schedule finalised many months before anything gets even close to going on sale.
The application deadline for Perth was back in October last year, and I barely made it a few hours before the deadline because I was still distracted and mildly shell-shocked from Edinburgh. But since then the organising team has been spectacularly helpful, and I'm looking forward to once again getting the show on.
There have been several improvements since last time it was performed, and it will be exciting to see how the Fringe World audiences respond. If you know anyone in Perth, tell them to come and say hi!
Next post: Video Augmented The Radio Star »