It's About Time… For a Blurb
Tuesday April 2, 2013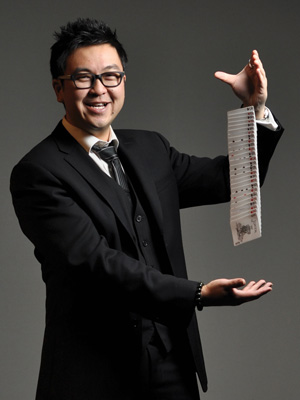 Friend, colleague, and frequent collaborator Dave Lee is working on a new show. It's about time. It's also called "It's about time." As the title may imply, it will be a time-themed show with a very high pun density.
The show will be premiering at the upcoming Melbourne Magic Festival in July this year. It's been an idea of Dave's for a long time, and I've been working closely with him recently to help make it into a reality.
One of the recent deadlines that we faced was finalising the show image and blurb for the festival program. Festivals usually need the promo information for each show many months in advance, and this can be challenging when the show hasn't even been written yet.
With only hours until the deadline, Dave and I sat down to hammer out a suitable promo piece within the 120 words maximum. After a lot of false starts (and many coffees), we ended up with something that worked out far better than either of us expected:
It's that time of year again! At the Melbourne Magic Festival, Dave Lee does a show. It's about time. If you have the time, then take the time to see this incredible performance.

If you don't have the time, you should make the time. If you can't make the time (because its past your bedtime), then give someone else a present; cash in your futures and buy them a ticket.

If you've ever had too much time, too little time, wasted time on a pastime, or cooked with thyme, this show is for you. So save the date, bring a date, clock in, watch out, and experience Dave Lee's new show!

It's about time.
The show is now on sale at the Melbourne Magic Festival Website. I'm deeply envious of its awesome blurb.
Next post: How Meetup.com Convinced Me That I Don't Want To Be A Full Time Cabaret Circuit Performer »