Recovery Week Night 5 – Tactical Manoeuvres
Saturday November 12, 2011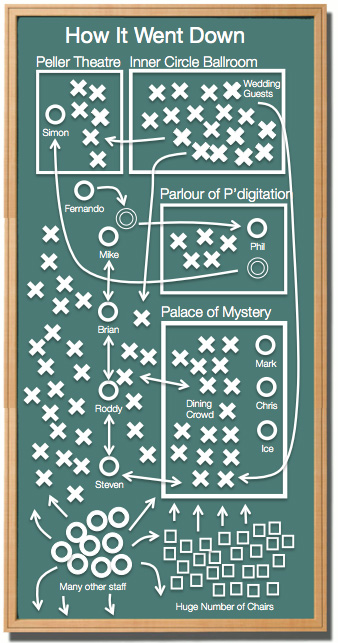 Even on a normal night, directing the flow of people and performers around the Magic Castle can be a challenge. Last night bought an additional challenge though, in the form of a wedding party that had booked out the Inner Circle Ballroom for half the evening. This meant that the already-diminished Magic Castle had an even smaller usable area for several hours.
The Palace (main stage room) was converted into a dining room for the first part of the evening, giving room for the buffet guests to sit down and eat. With the Peller Theatre area taken by the wedding guests, this only left the Parlour (medium sized 70-seat theatre) as the only available showroom in the whole building.
So for the first part of the evening, Fernando, Phil and myself alternated shows in the Parlour. Just before 8:30pm, the Palace was rapidly converted from a dining room back into a theatre. As the wedding party came upstairs and divided into the Parlour and the Palace, I headed downstairs to pick up the slack with more shows in the Peller.
Fortunately the Managers on duty - Brian, Mike, Roddy and Steven - knew exactly what they were doing, and kept an otherwise challenging situation under control. Guests were happy, shows went well, and I got to work two different showrooms in one night. It was an interesting experience to adapt on the fly between the two theatres.
It may not be business as usual at the Castle this week, but it's definitely an interesting time to be here.
Next post: Recovery Week Night 6 – The Unsung Heroes »
« Previous post: Recovery Week Night 4 – You Don't Know Jack