Vincent and the Meta-Haiku
Wednesday March 14, 2012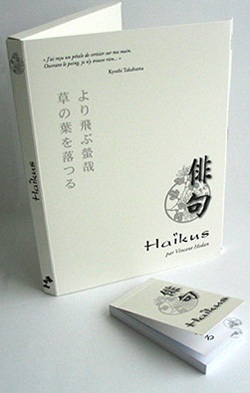 Vincent Hedan is a talented and clever magician from France, who has been living in Sydney for the past few years. I first met him when he visited Melbourne, and have had the pleasure of hanging out with him on several occasions since then.
One of the first tricks I saw him perform involved a book of haiku poems. It was a wonderfully clever and well-presented routine, revolving around a member of the audience choosing one of a hundred or so haiku from a small book. Then, subtly and gracefully, he apparently reads their mind and determines what poetic imagery they're thinking of.
Soon after I saw Vincent perform it, it turned out that he was releasing it for sale to other magicians. This happens very frequently in the magic world, but Haiku was an unusually high quality product. It was also ripe with haiku comedy possibilities. I first saw the announcement on Vincent's Facebook page, and replied in what I thought was an appropriate manner:
Vincent's haiku trick

Simple yet so amazing

I will order it
(For those who don't know, Haiku usually approximated in English as a verse of 5, 7 and 5 syllables per line respectively. It's arguably not a great approximation, but for the sake of the joke I wanted to go with the best-known haiku style.)
In the end though, I never did actually get round to ordering a copy. Though the trick is ingenious and strong, I couldn't see a way that it would fit with any of the shows I currently do. However, I felt that the haiku story of the Haiku trick wasn't finished yet, so I imagined how many magic hobbyist's purchases might go:
Haiku trick arrives

I perform it everywhere

Girls will like me now
The trick was obviously a great one for performing to women; poetic and emotionally engaging. However, I figured that if that was someone's primary motivation for buying the routine, they might end up having unrealistic expectations::
Haiku trick was great

But did not help my sex life

I was too nerdy
Thus ended the haiku trilogy.
If was indeed how it went down for anyone, maybe they would have more luck with Vincent's new release. Specifically: 10,000 Decimals of Pi, released in a clever marketing move on International Pi Day. In the genre of ingenious-and-powerful-tricks-involving-small-pocket-sized-books-that-can-be-performed anywhere, it looks like another winner.
I'll miss the chance to write a haiku about it though.
Next post: A Novice With a Svengali Deck »