Ultra Portable Theatre
Thursday June 14, 2012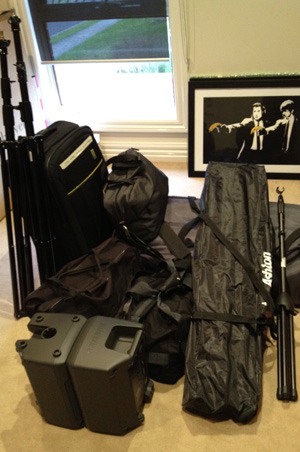 The Handsome Jack shows marked an interesting point in the evolution of Black Label Productions (the banner under which we produce public ticketed shows). Specifically, we can now, with only one car load of equipment, transform any small room into a simple but effective theatre in about an hour.
With the exception of seats (which the venue needs to provide), we can now deploy lighting, sound, backdrop and all the other production needs. This now makes us incredibly versatile in terms of venue choice for small shows, particularly when finding places to stage further seasons of At The Table.
The Handsome Jack shows were the first time this gear had been fully used live, and after bumping out of the final show I had the chance to take the first photo of the assembled kit.
The current kit, as seen in the photo:
2x Dedo DLH4 Light heads and power packs
1x Spider EvoFlex Backdrop
1x Samson EX150 speaker system
1x Sennheiser EW122 Wireless microphone system
1x Shure SM58 microphone
2x generic lighting stands
2x generic speaker stands
1x generic microphone stand
1x shitload of XLR3 cables, 6.25mm speaker cables, power extension cables and power boards
1x shitload of black fabric
The one remaining bag is full of various other bits and pieces, but the above list covers most of the significant items. I've been accumulating them over the past few years, one item at a time, in response to the various production needs we've had.
There are plenty of enhancements still to do before the shows' production values get to where I really want them, but for now it's a pretty great feeling to have a simple but effective theatre-in-a-car to experiment with.
(The fake Banksy is a completely different story, possibly for another time...)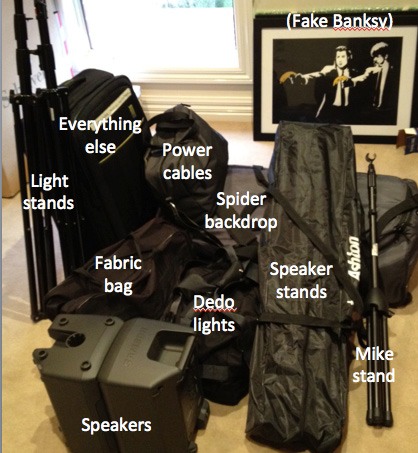 Next post: On Ideas and Cities »