The Variety Collective
Monday November 11, 2013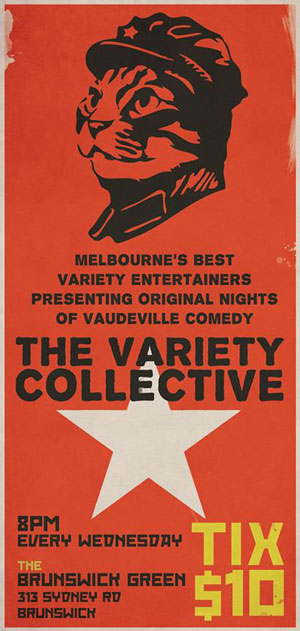 The Variety Collective is a weekly variety show in Melbourne. It was formed when a bunch of comedians, magicians, musicians, circus artists, and other unconventional performers decide they want somewhere to strut their stuff for the public.
While there are a heap of comedy clubs and live music venues out there, places to see variety performance art are pretty thin on the ground. If you're not familiar with the term "variety" in a performance art context, the collective's official website puts it pretty well:
"...jugglers, magicians, acrobats, hula hoopers, ukulele players, balloon benders, sword swallowers, snake charmers, spice fondlers, contortionists, comedians, clowns, mentalists, roller skaters, underwater puppeteers, and what not and so forth."
Personally I think that beats the hell out of what you might see at a generic comedy or music show.
I've performed at the Variety Collective a heap of times since it started, and it's proved a fantastic place to see all kinds of interesting things, develop material in front of a live crowd, and generally have a good night out.
The collective has a website, a Facebook page (the latter is usually more reliable), and the following details:
Where: The Brunswick Green, 313 Sydney Rd, Brunswick
When: Every Wednesday night at 8pm
How much: $10 at the door
Consider this a shameless plug.
Next post: Simon and Ghostfunkel »