I Give This Review Five Stars
Tuesday October 9, 2012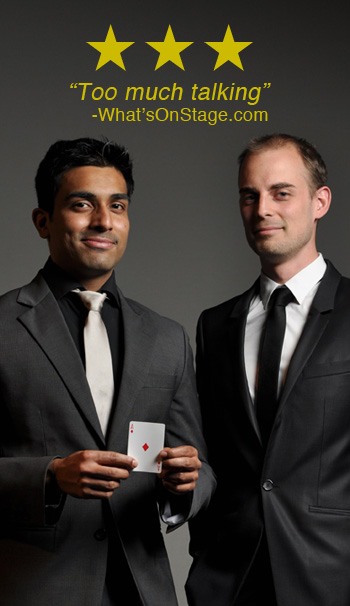 Back in 2011 when Vyom Sharma and I were producing our show Manipulators at the Edinburgh Fringe, we spent a lot of time hoping for reviewers to turn up.
When you're putting your ass (and a few thousand dollars) on the line by producing a festival show, a decent review can make the difference between success and severe depression.
In the end, we managed to score quite a few reviews. They ranged from impressively enthusiastic through to the slightly snarky, but were mostly positive and certainly helped promote the show.
One review particularly stuck in our memories.
It was written by Julie McNicholls for WhatsOnStage.com, and went as follows:
Whether it be a coin jumping from one hand to another or a bottle of wine appearing from nowhere, these slick Australians amaze the crowd with their close-up magic.

Though the tricks are impressive, they are also a little repetitive (a coin trick leads into a casino chip set-up and that in turn leads into a con with two silks) and some will find there is a little too much talking and not enough trickery, but it's nice to see an accomplished act trying to do something different with close-up magic.

With a full-house and a standing ovation from sections of the crowd, there is no doubt Simon and Vyom are entertaining.

And, as they explain, the world belongs to the manipulators. With a few more tricks, the world could belong to this likeable duo.
Vyom and I read that review together, looked at each other, nodded, shrugged, and at almost exactly the same moment said "yeah, fair enough." It was such a stunningly reasonable review that we couldn't think of anything else to say.
The two criticisms mentioned (repetitive tricks and excessive dialogue) just so completely and totally hit the nail on the head. In the chaotic lead-up to the show, filled with last-minute rewrites and many arguments, Vyom and I had somewhat written ourselves into a corner. We were working with a complicated overlap of our respective repertories, and had minimal experience at the time in script writing.
We eventually ended up with a show which, while certainly not a waste of anyone's 50 minutes and £12, definitely could have used more variety and a lower word count.
Julie's review pretty much nailed it, and in the words of Noel Qualter, British close-up magic extraordinaire, "I give that review five stars."
Next post: All The Water Bottles »
« Previous post: The New Hit Web Series: Simon and Davefunkel