Four Months in Germany
Monday September 24, 2012
In early October, I'll be leaving Melbourne to spend four months in Hamburg, Germany.
I'm booked to perform at the Hansa Variety Theatre, as part of their winter season variety show: eight different acts, combined into a 2.5 hour show (with interval) in a 480-seat theatre.
There are six evening shows per week, Tuesday to Sunday, plus afternoon matinees on the weekends. The first show is on October 25th, and the season runs through to February 23rd next year, for a total of … let me check my contract... 147 shows.
One hundred and forty seven shows. In this theatre: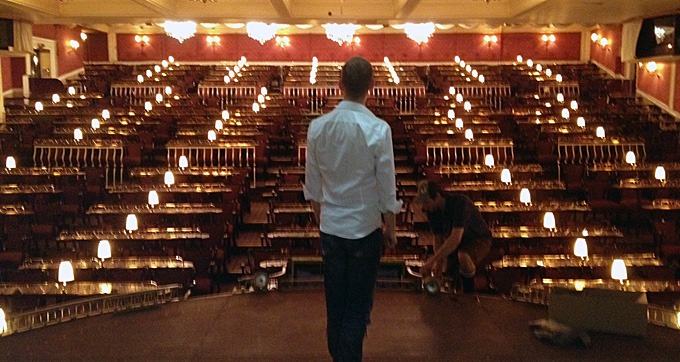 To date, this is by far the biggest booking I've ever been involved with. While not as hectic as the marathon month last year, the sheer scale of this four month contract is a little bit mind-blowing to me.
The booking itself came out of complete left field. One morning back in February when I had just finished my run of shows at the Perth Fringe Festival (and was lamenting that even though I'd had an amazing time, the run hadn't gone as financially well as I'd hoped), I received an email which began:
Dear Mr. Coronel,

I am writing on behalf my bosses who have seen your fantastic show a couple of days ago in Perth.

We would be pleased if you were interested to act out at our HANSA VARIETE THEATRE in Hamburg/Germany from 23 OCT 2012 until 24 FEB 2013.
My first thought was "ok, in a few more lines they're going to turn out to be Nigerian and ask for my bank details."
However, after some more reading and a little bit of research, I realised I was staring down the barrel of an amazing opportunity. A couple of months of back-and-forth later, the contract was signed and locked down. However, with all the FISM stuff going on, I wasn't really thinking about the full ramifications of the gig until quite recently.
Now with two weeks to go, I'm getting nervous. I'm working on a couple of new routines, and scrambling a little to have them ready in time.
It's exactly this mix of worry and excitement that has characterised the 18 months since leaving my business consulting career. It's stressful, but incredibly exhilarating, and I can't wait to find out how this amazing Hamburg gig plays out.
Next post: The New Hit Web Series: Simon and Davefunkel »