The Magic Castle: After The Inferno
Tuesday November 8, 2011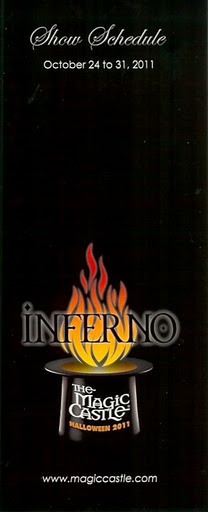 It's going to be an interesting week at the Magic Castle. For those who don't know, the building narrowly escaped destruction last week due to a fire that broke out during the supremely ironically named Halloween Inferno Week.
Fortunately, thanks to the intervention of the LA Fire Department, the damage was contained to only a small part of the building. Apart from a hole in the roof and some bad water damage to a few rooms, the Castle made it through relatively unscathed. As President NPH told the Hollywood Reporter a couple of days ago, it could have been a lot worse.
"We dodged a lot of bullets," Harris told THR. "It could've been much, much worse. It was minutes, floorboards away from being a huge, huge disaster.
But for now the Magic Castle is still standing, and everybody is justifiably damn happy about that. It's one of the most amazing places on the planet, and it would have been horrific if the fire had been worse. While several of the main areas are still closed off while restoration teams fix the damage, most of the castle will be opening back up to the public as of tonight.
This is particularly interesting for me, since I'm booked to perform there every night this week. I flew into LA last Friday in preparation, and landed to news of the recovery in progress. The last few nights have seen the castle open to a limited number of members only, and rumours have been flying as to how long the recovery will take, and what's going to happen in the meantime.
As per the official announcement that came out last night:
Our close-up performances have been moved into the Peller Theatre for the time being, but the same great magic is popping up all through the building! Simon Coronel performing Close-Up (all night long), Fernando Keops performing in the Parlour (all night long), and an unforgettable Palace show with Mark Haslam, Kenrick "Ice" McDonald and Chris Randall!
So, it's going to be an interesting week. Being in the Peller Theatre will mean doing a fairly different act to what I would have done in the Close-Up Gallery, but given the Peller's impressive facilities it could end up being even more fun. Going "all night long" may be more than a little exhausting, but I'll happily pick up the slack if it helps keep this wonderful place going. The amount of love everyone has for this building, plus the overwhelming sense of relief at its narrow escape from obliteration mean that good vibes are plentiful here right now.
It's 5:30pm. First show is scheduled for 7. Let's do this.
Next post: Magic Castle Recovery Week – Night 1 »
« Previous post: Magic, Writing, and Using Distraction for Good, Not Evil