Billboards of Las Vegas
Tuesday May 21, 2013
Las Vegas is a bizarre and fascinating place; amazing, wondeful, and horrible all mixed up together. One tiny example of this is what you see in the advertising billboards around town. The following are three billboards that I saw on a recent trip there.
I want to stress that these are actual billboards, not parody "what you might expect in Vegas" billboards.
1) Get Glen!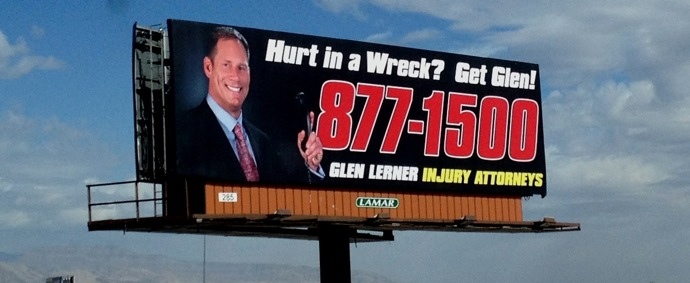 This was only the most blatant of the many "we'll help you sue people" adverts around Vegas. I now realise that Saul Goodman's "Better call Saul!" adverts in Breaking Bad really weren't an exaggeration.
2) Lee's Discount Liquor



I think this one pretty much speaks for itself. Again, this is an actual billboard along the Las Vegas highway. I particulalry love the little detail of the Facebook logo in the top right corner.
3) Go to jail, get hugs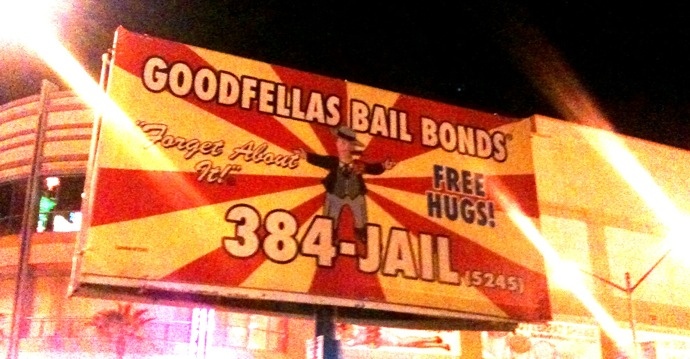 This represents so much about Las Vegas summarised in a single
glorious image. Bail bond loans seem to be a significant industry there. It takes a really discerning loan shark to offer free hugs though.
Those billboards alone are enough to let you recreate your own quintessential Vegas experience. Fly in, gamble, get depressed, get drunk, crash a car, sue someone, go to jail, pay your bond, get out.
And get a hug.
Next post: Outer Face, Inner Face »