31 Hours With United Airlines
Tuesday August 6, 2013
When you book a flight, particularly an international one, there is no guarantee that it will go perfectly smoothly. The aviation industry is an incredibly complex one to operate in, and there are always going to be things that will go wrong. Flights will be delayed or cancelled. It happens.
However, it happens regularly enough that you might expect an airline to have adequate plans in place to gracefully handle the results of those delays and cancellations.
After the last 31 hours, I'm not at all convinced that United Airline has such plans.
Here, in chronologically ordered bullet points, is how I spent those 31 hours. Consider this a cautionary tale if you're considering United for your next overseas trip.
On Monday August 5th, I arrived at Melbourne airport in the morning to catch United Airlines fight 840 to Los Angeles. A simple 16 hour flight with a brief stop in Sydney.
Found a huge queue at check-in. Was informed by attendant that the flight had been cancelled overnight, and that they'd be trying to book us on different flights. That sucks, but hey, it happens.
Evidently re-booking people takes a while, because after an hour the huge queue had barely moved. On the suggestion of one of the attendants, I tried phoning United customer service on my mobile while we waited.
After 40 minutes on hold, I managed to get through to someone who helpfully handled my re-booking while I was still in line. Apparently the only option available was Jetstar flight JQ3 to Honolulu via Sydney, and then a collect-bags-and-re-check-in transfer to United flight 1221 from Honolulu to Los Angeles.
Though a little worried about the indirect multi-airline route, I figured I didn't have any other options. I agreed to the rebooking on the phone, abandoned the still-massive queue, and went to find the Jetstar terminal.
One trek to the opposite end of the airport later, I found the Jetstar terminal. They told me I needed to check in at the *other* Jetstar terminal, back at the far end of the airport I'd just come from.
One trek back to the opposite end of the airport later, I managed to check in. Apparently due to the way United had rebooked the flight, the Jetstar flight wouldn't be providing any in-flight entertainment, blankets, or comfort packs.
Annoyed at the downgrade (but dismissing it as first world problems), I caught flight JQ3 to Honolulu via Sydney.
14 hours later, slightly insane from sleep deprivation and lack-of-inflight-entertainment boredom, I arrived in Honolulu.
Collected my bag from luggage collection (apparently it wasn't possible to check it all the way through) and went to find the United check-in desk.
Trekked to the opposite end of the airport (literally - Jetstar and United couldn't be further apart). Found the desk. Checked in, went through security, and settled in for the four-hour wait until boarding.
While waiting, I noticed that my flight (UA1221) wasn't showing up on the departure screens. Wondered why. Couldn't find any United officials, so asked an airport security person, who said it was probably a typo, and should show up soon. Went back to waiting.
With 2 hours left until departure, and my flight still not on the board, I started to get worried. I figured I could find a United official by finding a United flight, and asking someone at the boarding gate. The only United flight leaving within the next hour was leaving from the opposite end of the airport.
Yet another walk to the opposite end of an airport later, I finally found a United official. I asked about my flight not showing up on the board. The official said it was fine, and should show up soon. I asked to double check. The official, upon actually checking, said "oh, looks like it's been delayed five hours. You should probably go and speak to the ticketing desk."
I breathe deeply and count to ten.
I walk back to the other end of the airport, back out through security, and find a huge queue at the United check-in desk. At this point I wasn't sure whether I was supposed to just wait for my flight (making a total of 9 hours at this airport), or try to get on a different flight. United didn't have any kind of service or information desk, just a set of understaffed check-in desks.
I tried to ask one of the check-in people what I should do, but was just told irately to get in line. I tried waving my boarding pass and explaining I just needed quick guidance as to where I should actually go. Was told irately to get in the (very long) line again.
At this point, no longer trusting United's information, I even wasn't sure if the flight *had* been delayed, and whether joining the massive queue would just result in me missing it. I decided to hedge my bets and get in the shorter "bag drop" line, hoping to get some actual information from a person with access to the actual check-in database.
Halfway through the shorter "bag drop" line, constantly looking for attendants to ask for advice, but finding none, I noticed this sign with something stuck to the back of it: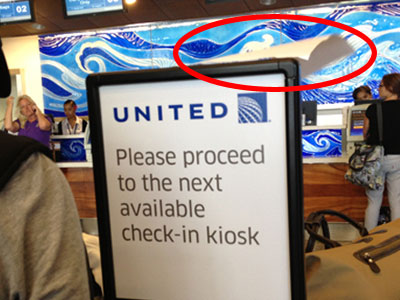 That's a fairly standard sign. But wait a minute, is that a piece of paper on the back, blown out of view by the wind (circled in red in the photo above)? Let's flip it over and see what it says.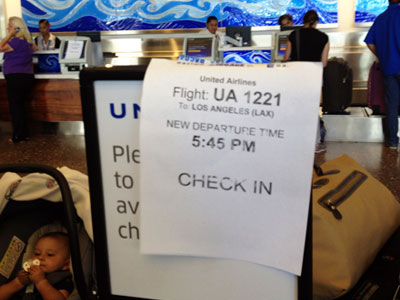 Ah, so my flight *is* five hours delayed. This was literally the only information I'd managed to find so far about what was going on with my flight. There had been no info on the departure boards. No announcements over the PA system. This half-assed printed sheet of paper, stuck to the check-in sign with luggage tape, and not even in view due to the wind, was apparently the extent of United's passenger information service.
I finally made it to the desk, managed to be polite to the check-in person despite my rage (I've worked in customer service - I know what it's like to deal with problems that aren't your fault), and was rewarded by being re-booked on a Hawaiian Airlines Flight HA2 to Los Angeles, departing in two hours rather than five.
Waited 20 minutes for my checked bag to be retrieved from the system. Went to find the Hawaiian Airlines check-in desk.
OBVIOUSLY the Hawaiian Airlines check-in desk was at the opposite end of the airport, right back towards Jetstar. The baggage attendant said that I could take a shuttle but that "the next one won't be along for a while." I decide to walk.
Made it to Hawaiian Airlines. Tried to check in. The confirmation code on the docket United gave me doesn't work. I ask an attendant. They tell me to go to customer service.
Huge queue at customer service. At least it wasn't at the other end of the airport again.
After 40 minutes in line for customer service, finally get my ticket confirmed and checked-in. Am then informed that there will be a $25 fee for my checked bag. United had clearly neglected to mention this when doing the transfer. Apparently I also don't have a seat assigned, and will need to join the standby queue at the gate.
I get through security (for the fourth time now), and make it to the gate. I eventually get a seat assigned, board the aircraft, and pass out.
Finally, after 31 hours of travel, 5 walks across most of an airport, 4 hours standing in various queues, 6 different boarding-pass-like documents, 4 trips through airport security, and an astonishing lack of customer service and communication, I make it to Los Angeles.
All without ever having actually travelled on a United Airlines flight.
(Update: and then, a month later on the return flight, there was a sequel.)
Next post: The Amazing Accidental Hansa Theatre Rear Shot »