Chuck Fayne And His Four Opening Acts
Wednesday April 25, 2012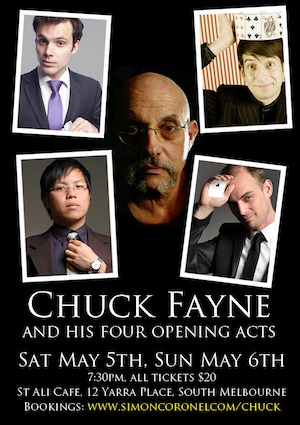 I landed back in Melbourne four days after the EG finished, mind still reeling from the experience, and quickly had to hit the ground running. There are a heap of exciting things coming up on the horizon, all of which are going to need to some serious work to make happen.
One of the first phone calls upon landing was with Anthony DeMasi, a fellow performer and occasional collaborator. For quite a few months we'd been discussing the idea of putting on a show to honour our mutual mentor, Chuck Fayne.
Chuck is a US expat who moved to Australia a couple of decades ago to raise his children. Back in the day he was a famous face at the Magic Castle; one of the legendary Dai Vernon's last students, and two-time winner of the coveted Parlour Magician of the Year award.
Since moving to Australia, Chuck became a fountain of wisdom and belligerent honesty to many local performers. I was lucky enough to meet him early on when first learning magic, and have benefitted hugely from my time spent with him.
For various reasons, it's been a few years now since Chuck has performed in any public shows in Melbourne. Anthony and I (in conjuction with Luke Hocking and Yao Wong – two of Chuck's other students) decided that this should be rectified. However, a problem: the only dates that worked for all of us were just three weeks away. Any later than that and it could be months before another window opened up.
Producing a show with only three weeks' notice is normally showbiz suicide. Still, we've both dealt with far bigger challenges in the past, so said "screw it" and got our show on. Better to risk a flawed production than postpone it indefinitely. Five days of venue hunting, act booking, poster designing, and website hacking later, we already had our first online bookings coming in.
Hence, it is an honour to now present Chuck Fayne And His Four Opening Acts. Two shows only, next weekend in South Melbourne. Tickets are available here, and at this rate will probably sell out.
Next post: The Mr Miyagi Principle »