Serendipitous Colour Combinations
Monday September 23, 2013
A few weeks ago at The Magic Castle in LA, I got to see a collaboration by two usually independent performers: Bizzaro and Mr (Jordan) Right. Each usually performs solo, but for a special appearance in the Peller Theatre at the castle they had collaborated on a two-person show.
One thing about the show immediately jumped out at me: the distinctive red/black colour coordination between them. As you can see in the photo below, they had a really nice inverted colour balance to their clothes: Bizarro in red with black accents, and Mr Right in the exact reverse.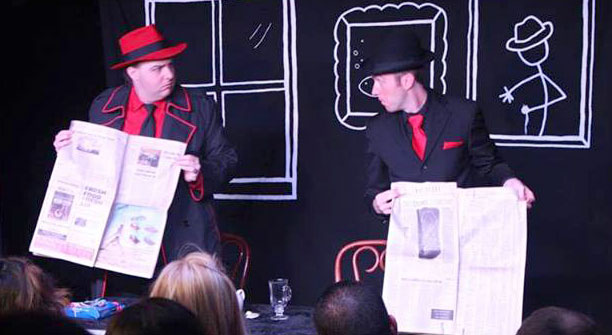 You would assume that that kind of coordination would be the result of careful planning and wardrobe selection. Actually, it turns out it was just pure coincidence. Each of them was wearing the outfit they normally wear for their solo shows; it was serendipity that they happened to make a perfect match.
As we all talked about this after the show, I realised I could relate - exactly the same thing happened to me two years ago with the two-man show I did with Vyom Sharma at the Edinburgh Fringe Festival. The photo below, again, looks like a carefully planned coordination. But actually, neither of us had a plan for the look and feel of the show when the photo shoot was done - we just agreed to turn up in generic nice suits.
Sometimes a well matched wardrobe is the result of careful planning. Other times it's just pure joyous coincidence. I'm assuming there must be heaps of other people out there with similar experiences. Do you know of any? If so I'd be fascinated to hear about them.
Next post: Magic Is Not About The Tricks. It's About The Man. »